The Portland Metro area, like much of the United States, has experienced historic levels of demand for industrial warehouse and distribution space resulting from a perfect storm of demand fundamentals. Most industrial users remained open throughout Covid-19, as there's no virtual substitute for physical product creation and fulfillment.
Covid supercharged the direct-to-consumer e-commerce world, which relies heavily on warehouse space for storage and distribution. Logistics providers need to service the increased warehouse demand, which in turn requires more space. Combine those fundamentals with an increased money supply, historically low-interest rates, and sustained levels of consumer spending, you get a freight train that has left the station with no end in sight.
As a group that participated in 31% of the combined sold acreage for industrial development in 2021, Macadam Forbes has seen first-hand the drastic change in performance metrics over the past two years: rent growth of 4.4% year-over-year from 2020 to 2021, a trend that is continuing into 2022; industrial vacancy declined to 2.9% market-wide at the end of 2021. The total building square footage sold in 2021 was down from 2020, while sale prices climbed, indicating that industrial owners are happy to hold assets, and existing supply is constraining further.
This industrial land constraint has birthed changes in development mentality. It has ignited a push toward parcels that require more time and money due to issues such as zoning constraints, utility service issues, and topography challenges. It has also seen secondary markets like Salem, Woodburn, and Newberg, which have historically experienced minimal land sale activity, especially for speculative industrial land projects, experience a boost in activity.
Multiple pieces of industrial land in Salem and surrounding secondary markets are in escrow or have recently closed without signed leases for the finished product, showing that private groups are extending the "if you build it, they will come," mentality further south of Portland.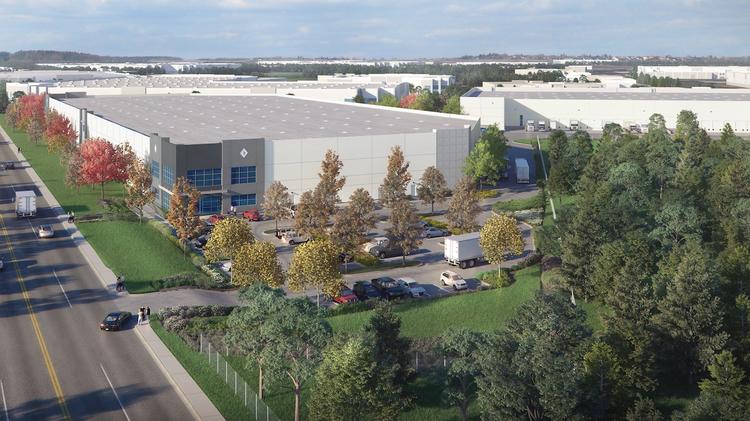 Another paradigm shift in Portland's industrial climate has been the size of new projects, and the square footage of recent leases. Historically, the market has seldom seen massive absorption chunks of 150,000+ square feet for single users, but the number of those deals is on the rise, and developers are building buildings as large at 400,000 to 500,000 square feet, and in some cases more, on a speculative basis and hoping to lease to one or two tenants, total.
Given the fervor for new construction, the next three years will likely see the largest delivery of industrial square footage in the history of the market. Development projects are pressing ahead despite high-water-mark construction costs, longer-than-usual delivery timelines caused by evolving municipality requirements, and supply chain issues clouding material availability.
The construction pipeline for the Portland Metro alone is estimated at 4.7 million square feet, which is not entirely inclusive of the hundreds of acres in escrow for sale with private developers, and also not inclusive of new construction in Salem and the surrounding areas.
Now the question is: will the new wave of construction delivery be absorbed? Private developers, and the capital partners behind their projects, certainly seem to think so, pressing ahead with massive projects despite high water-mark construction costs and longer-than-usual delivery timelines due to evolving municipality requirements and supply chain issues clouding material availability. Portland's I-5 South corridor, inclusive of suburban markets like Tigard, Tualatin, and Wilsonville, is a great example of the bullishness. That stretch has an estimated 1.5 million square feet in the construction pipeline; a strong absorption year for the corridor is roughly 500,000 square feet. The bets have been placed, and the house is looking for record-breaking absorption numbers in the near-to-medium term.
"Frothy," "overzealous," and "over-committed," are buzzwords commonly heard in the face of such radical shifts in market conditions. In reality, industrial performance is here to stay, especially in Portland. Rates and prices have a new floor.
Macro-economic conditions will always play a role in asset performance, but the demand fundamentals recently introduced into the market aren't leaving, and they don't care about historical numbers. We will continue to see prices and lease rates climb, and we will continue to see feverish competition for these deals. Growth rates fluctuate, but pre-pandemic lease rates and sale prices are things of the past. Relative to other west coast markets, Portland has a lot of catching up to do. The curve is steep, and Portland just stepped onto the escalator.